Clothes, toys, and fun memberships… here are some of our favorite gift picks for kids from Birmingham stores The Robot Garage, Adventures in Toys, and Lil Rascals.
There's a lot to love about giving gifts — from finding just the right thing, to choosing the wrapping, and finally seeing the surprise and joy on the recipient's face. There are always plenty of opportunities to lavish gifts upon our friends and family, especially all the little ones in our lives. Find the perfect gifts for all the kids on your list at some of our favorite stores in the Birmingham, MI area.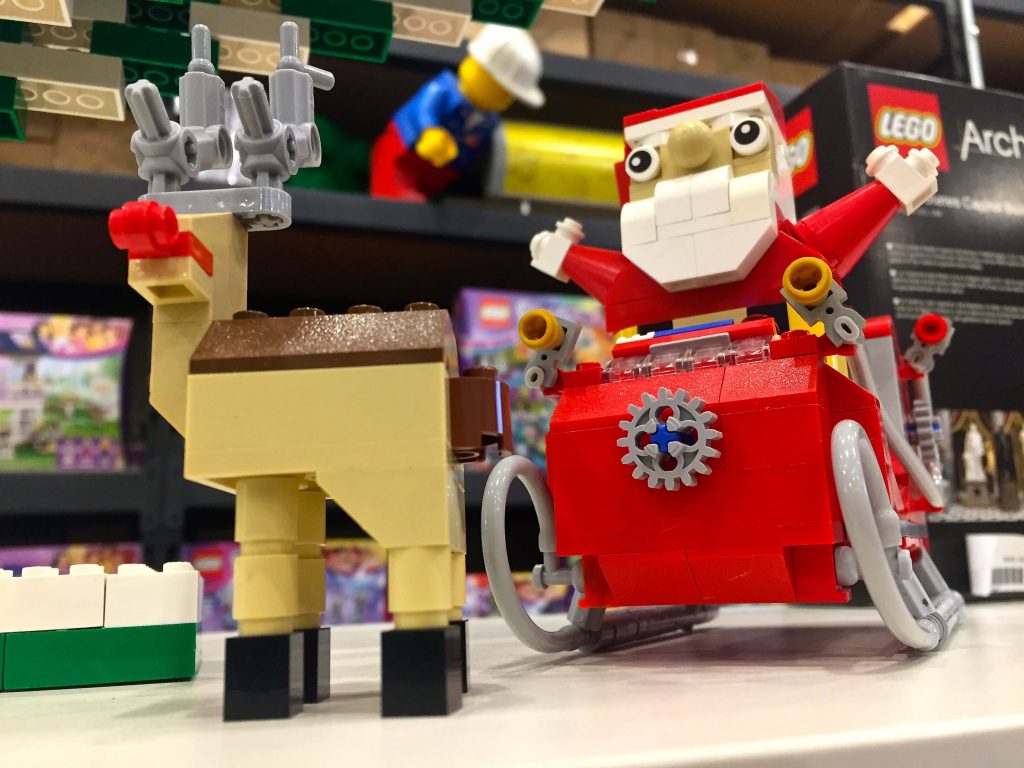 The Robot Garage
637 S. Eton, Birmingham, Michigan. Hours: Tuesday – Friday 11:00am to 6:30pm, Saturday 9:00am to 6:30pm, Sunday 12pm to 5pm
Not all gifts have to be wrappable! Consider giving an engineering and robotics experience. I first visited this Birmingham store and workshop with my kids for a birthday party, and it's awesome.
Kids (and adults!) can build anything and everything they can imagine with the massive quantity and variety of Legos provided. You can even incorporate robotics into your design and use computers to set it into motion. If a kid puts their heart and soul into their project, they can take it home as a gift! Simply weigh their creation and pay per pound.
Consider gifting drop-in hours for Lego-building and playing with robots, $8 per kid for up to two hours. Or give a series of organized class sessions or a holiday three-day camp. Projects and prices vary by age group. Memberships are also available and include free drop-in hours and discounts on classes. If you live near Birmingham and think your kids will want to spend every rainy Saturday here, a membership is the way to go.
If you want to give your kid a gift for under the tree, The Robot Garage can help there too. Choose from a comprehensive selection of Lego kits and Duplo blocks, and a range of other science and engineering toys. Some of the most popular gifts this year include Hoberman spheres and Crazy Aaron's putty. I particularly love all the DIY kits. In my experience, when the kids have a hand in building their own toys, they tend to be a little more careful with them. And learning while playing is always a win-win!
Adventures In Toys
250 W. Maple, Birmingham, Michigan. Hours: Monday – Saturday 10am to 6pm, Sunday 11:30am – 5:00pm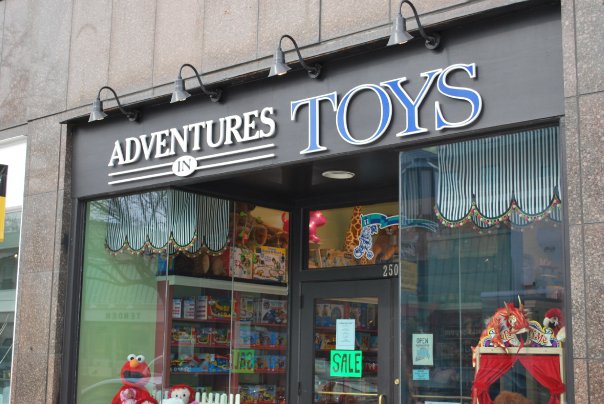 Walking into this shop is like stepping back into the good old days. The vintage tile floor and the hand-painted mural behind the counter remind me of everything I loved about toy stores as a kid. From presentation to service, there's a real focus on quality in every aspect of locally owned Birmingham store Adventures in Toys.
Toys are displayed from floor to ceiling, and they run the gamut from dollhouses to science kits to a wonderful selection of Thomas trains and accessories. They also carry Melissa & Doug, which has long been a favorite brand of mine for gifts because of the traditional feel and high quality pieces. Here you'll find their costumes, puzzles and wooden play sets, and an awesome puppet theater and workbench, which I picked up (assembled for free!) for my kid.
Adventures in Toys also has a fun five-and-dime-type section with gag gifts and trinkets that make great stocking stuffers. A nook toward the back of the store houses gifts for your kid scientist: microscopes, crystal-growing kits, telescopes, and more.
There are toys for kids to play with quietly indoors and raucously outdoors. There are books and stuffed animals. There are art supplies and musical instruments. There are also tons of gifts for babies.
You can even call ahead, drive your car up to the back door and collect your gifts. Gift–wrapping is free and so is assembly — just give them a day's notice. You'll find plenty of options for every kid on your list here, and you'll get it all with some of the best service in town.
Lil Rascals
580 N. Old Woodward, Birmingham, Michigan. Hours: Monday to Saturday 10am to 6pm; Sunday 9am to 3pm (May to October only)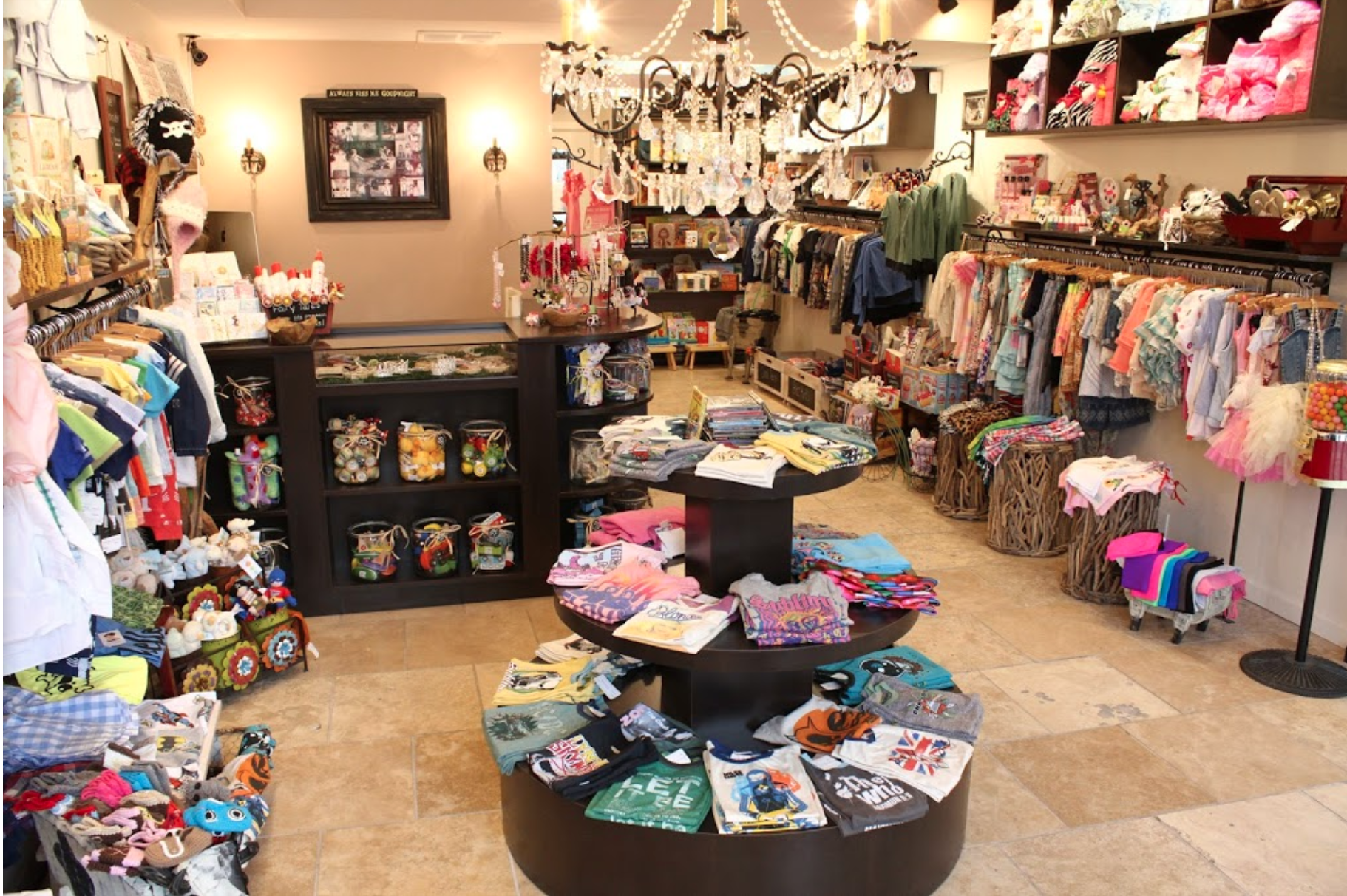 When I want my gift to really stand out, I head to Lil Rascals. This sweet little boutique carries a wonderful selection of assorted gifts for kids, from books and toys to clothes and accessories. It's the kind of place where you'll want one of everything.
Lil Rascals carries a unique line of comfy and cool clothes for babies, toddlers and young kids. Anyone who's shopped for clothing for toddler boys knows there's not much variety out there, but that's not the case here. I picked up an '80s-style t-shirt and superhero belt as a gift for my son.
For girls, go for a classic look, like a tweed dress paired with a mini Chanel-style purse and a dainty bracelet. Or for an edgier look, like my daughter prefers, snag a rock-n-roll t-shirt and colorful lamé leggings.
I also head here for keepsake gifts like personalized birth info blankets and embroidered onesies. I love that although this shop has a more upscale vibe than a typical toy store, kids are welcomed as much as their parents.
No matter who's on your gift list and what's on their wish list, you'll find everything you want right here in Birmingham. Even better…shopping locally creates local jobs, supports area causes, and reinvests money in our community. And those are the gifts that give to all of us year-round!
What are your favorite locally owned toy stores in the area? Let us know in the comments!